I know that many moms out there like me are busy spring cleaning, and maybe some of you need a little motivation or inspiration--
Here is more from her:
My goal with 31 Days to Clean is to encourage you (and myself) to get our homes
and
our hearts in order.
Give me 31 days and I'll give you not only a cleaner home, but a vision for one.
The 31 Days to Clean E-Book is about the "why" and the vision and the heart for taking care of our domains. Each day you will be encouraged with some thoughts and ideas, and then those ideas are put to action.
After each days reading, you will be given two challenges:
The Mary Challenge -Something you do that encourages/engages your heart
The Martha Challenge – Specific cleaning tasks
31 Days to Clean is a faith journey towards ruling, subduing, and
loving
.
My Thoughts
31 Days to Clean is just what we all need---refreshingly motivating and gracefully real. This encouraging book makes you truly feel like you can do it-- conquer your home while keeping your heart on your family, renewing your vision for cleaning while keeping your motives and life in balance. There is an inspiring word for everybody--I highly recommend it!
And it is not only all that but economical as well---only $4.99!
You can download it or get it for your Kindle here.
Wise Woman Tip:
On May 1st they are starting a Homemakers group challenge that you might be interested in participating in!
Click on the image to learn more: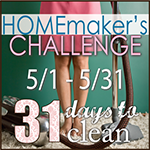 The Giveaway
I am happy to announce that Sarah Mae is generously giving away TWO free downloads to this new, popular ebook to two of my special readers (one each)! Did you know it made
Amazon's bestseller list
in the home cleaning category? All you have to do to enter is leave a comment and your email if you don't have a blog. That's it!
Extra Entries
************************
Would you like to advertise or do a giveaway on A Wise Woman Builds Her Home? You can contact me at

wisewomanads@gmail.com

or click here for rates. If you would like to learn how to advertise on your blog or monetize it, I can teach you how just click here.