I know that many of you homemakers out there just love all things homemade. Everything from homemade soap to homemade clothing--but what about special homemade home decor? Well this special gal has spent many years perfecting her craft and I am happy to share with you today, Peyton Weiss, owner of the Etsy store,
Peyton's Leaf Press.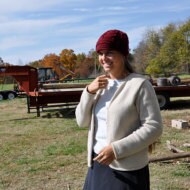 Here is a description from her:
"My name is Peyton Weiss and I'm the behind the scenes artist. My interest and love of art and nature began at a very young age. I was inspired by a Montessori teacher who at the time, dabbled with a very simplified version of leaf art. The concept of using leaves and flowers to create beautiful pictures of animals was so intriguing!!

I have now spent nearly eight years experimenting and perfecting my art; going far beyond my original inspiration. My family and I now make annual trip up North where I gather and press an abundance of leaves to be used for future creations.The variety of animals I create is continually growing. Some additions to my collection this year are a sheep, an elephant, and an owl. My leaf art is one of my many joys and passions in life and I love being able to share it with others."
That's right, Peyton's passion is leaf crafting and here is a sample of her unique handiwork:
And some more:
Featured from left to right:
You can find them and more here at
her Etsy Store.
She also does custom orders too!
The Giveaway
Peyton would like to generously give away
"The Turkey"
to one of our special readers ( a $120 value!)
"This majestic turkey is created from real leaves that I hand gathered and pressed. It is composed of mostly autumn leaves procured from the Tennessee area. The picture is glued and protected with a UV-resistant acrylic coating.It is framed in a rustic brown 16"x20" frame. The outside dimensions are 24 3/4" x 20 3/4"."
You may enter here:
a Rafflecopter giveaway
Hope you win!



Would you like to advertise on A Wise Woman Builds Her Home?
Visit our rates page for more information or email me at
wisewomanads@gmail.com
We'd love to partner with you!